Giving back to the community - McLaren Vale Christmas Pageant
When I was a young girl, I massaged my Mum at night. It felt like forever, but it was something that I enjoyed as it made her feel good. Sometimes she would give me a small amount of money and sometimes my hands would have a lingering burn from the Tiger Balm! Anyhow, I knew I had A LOT of energy in my arms and hands… but didn't know what to do with it.
Massage wasn't an occupation when I left high school. I worked on typewriters and then with the technological boom computers – expressing my insane ability to use the energy in my hands through the keyboard. This led to a successful role as IT Manager for a Chartered Accounting firm. It was stressful and rewarding and all was good until I opened my eyes one day and said "I have always had a desire to study massage, I'm going to take some leave from my work and find out more"
In 2002-2003 I undertook a Diploma in Remedial Massage and haven't look back. It was:
Enjoyable
Easy to learn (all that business background of the accounting firm did make it easier)
Satisfying – I make people feel better
Challenging
Rewarding
Flexible
That was all good, but I knew there was more! My inquisitive mind had me attending seminars that Naturopaths would go to. I had to know more. In 2009 I enrolled for an Advanced Diploma in Naturopathy, Advanced Diploma in Nutritional Medicine and Advanced Diploma in Western Herbal Medicine. Woooh!!
5 years later I graduated and hit the ground running, again, finding that my new skills even enhanced my Remedial Massage skills, and vice versa. This was incorporating a recipe of holistic healing….fantastic!
So now I give to you, all that I am and continue to learn through these skills:
Remedial Massage – Therapeutic, Sports, Trigger Point, Chinese Cupping,
Reflexology, Myofascial Release, Manual Lymphatic Drainage.
Naturopathy
Western Herbal Medicine
Nutritional Medicine which incorporates Iridology and specific testing techniques to ascertain what state your body is in and how to start healing.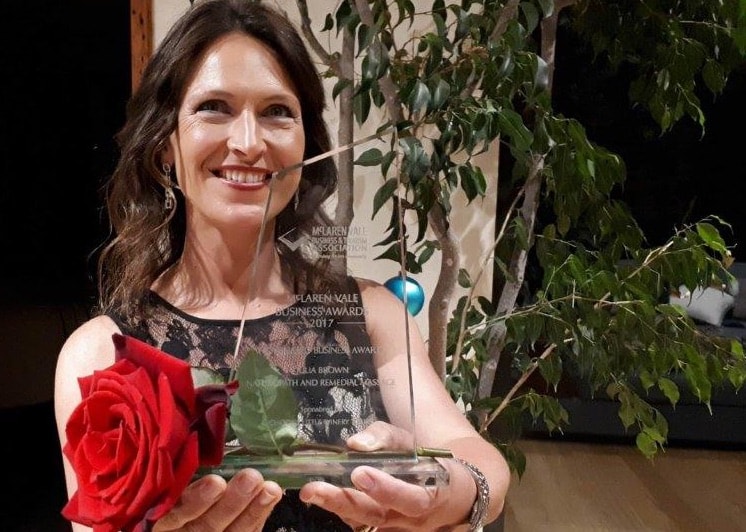 Winner of the "Best Home Based Business" award in the McLaren Vale Business & Tourism Awards 2017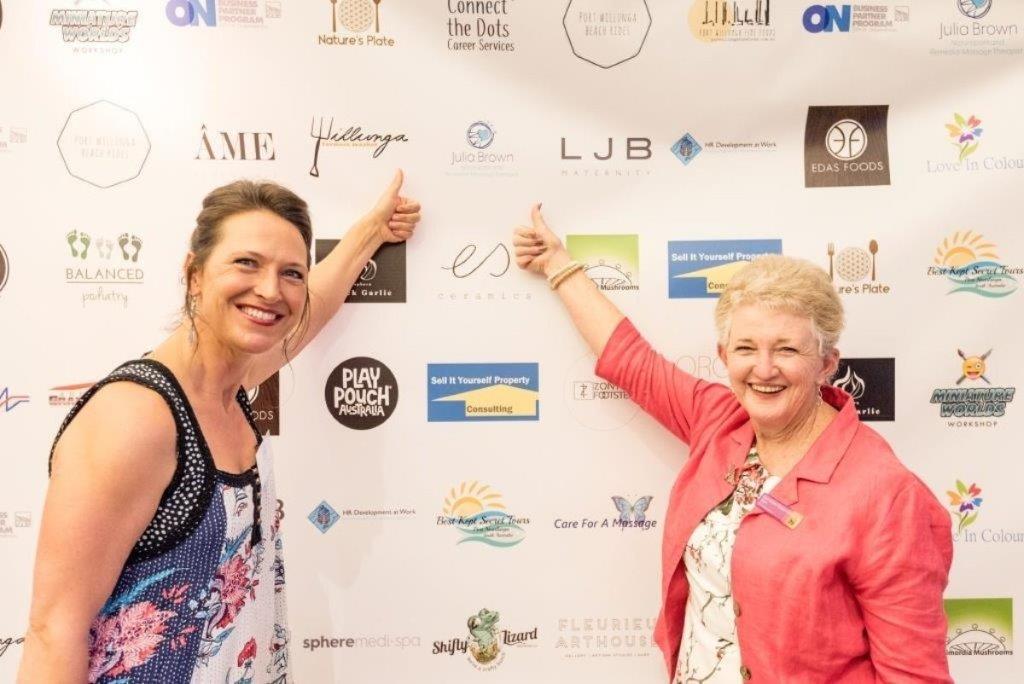 Julia with Lorraine Rosenberg at the Onkaparinga Council Business Christmas Show – celebrating Grants issued throughout the year.